Hang it straight. Stick it in her ass.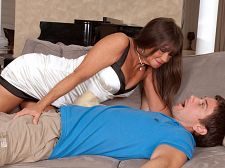 The lesson of this video is simple: If you're a husband with a hot MILF for a wife, don't leave your MILF alone in the house with another guy when she's horny.
When this video opens, 56-year-old Raven from Idaho is making out with her husband on the couch. They're interrupted by the picture hanger, who made the mistake of stepping on their expensive piano. The hubby's pissed, but he's suddenly called away on business, leaving Raven horny and vulnerable.
"Sorry, my husband's a little bit of an asshole," she tells the picture hanger. "Do you need help hanging those paintings?"
She straightens the painting then she straightens his dick. His cock goes straight into her mouth then into her pussy then into her tight MILF ass. Lesson learned for Mr. Hubby? Probably not. The picture hanger cums on Raven's ass, and he's still not back. Oh, well. He can catch whatever he missed on YourWifeMyMeat.com.
See More of Raven at YOURWIFEMYMEAT.COM!