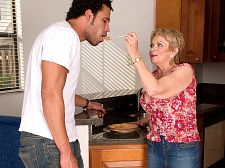 Lin Boyde is a horny 62-year-old divorcee. She's standing out on her balcony, watching her new neighbor move in, and getting hornier by the minute. The sweatier he gets, the wetter her pussy becomes.
"I have to check this out a little bit more," Lin says to herself. "It looks like that's his last load."
Well, maybe for now it is, but Lin has some plans for his next load.
An hour later, Lin knocks on his door with a baked apple pie. She's welcoming him to the neighborhood. Isn't that nice? He seems to be really busy (the dude apparently doesn't notice that Lin is ready to pull his pants off), and Lin talks her way inside. She feeds him the pie. He tries to get rid of her. She feeds him some more pie. He tries to get rid of her. She feeds him some more pie and drops a piece on the floor. She bends over to pick it up, and on her way back up, she stops at his crotch and pulls his cock out of his pants.
At this point, he stops trying to get rid of her.
"I'm always ready for sex," Lin told us. "And I thinking fucking a new neighbor would be the perfect way to welcome him to the neighborhood."
Blow job, ball-sucking, pussy-fucking…it's all here. We have the feeling this guy's gonna love his new home.
See More of Lin Boyde at SILVERSLUTS.COM!