Wife, hubby and the guy he brought home from work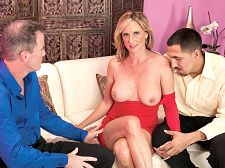 It's "Bring Your Employee Home For Dinner Night" at the West household, but Jodi West hasn't prepared anything for dinner. What she has done, however, is dress up her tight, sexy 46-year-old body in a short, revealing red dress (paired with matching fuck-me pumps)
"Hi, honey, we're home," Mr. West, Jodi's real-life husband, says. "I brought our newest sales associate, Juanm with me. Juan has been tearing everything up at work."
Juan is about to tear everything up at the West household, too, because when Mr. West decides they oughta eat in tonight, Juan knows exactly what he wants to eat. He can't believe his good fortune. He can't believe he has such a great boss who offers his wife's mouth and pussy as part of the bonus plan.
Of course, like most bosses, Mr. West doesn't give without making sure he's getting something in return, so before long, Mr. West is eating his wife's pussy while she sucks Juan's cock. And then they're taking turns filling Jodi's MILF mouth and hot pussy.
In the end, Juan cums on her face, Mr. West cums in his wife's pussy and we get to see her play with the spunk that's dripping out of her cunt. That's our bonus.
See More of Jodi West at YOURWIFEMYMEAT.COM!